Friday, January 29, 2016 at 12:00PM
Why I read this book:
I know Lisabet Sarai from the Erotica Readers Association. After reading her blurb for The Gazillionaire and the Virgin, I was thrilled when she offered me an Advanced Reader Copy to read and review.
My one sentence summary:
Tech company guru finds her match in a nerdy recluse with a dominant side she can't resist.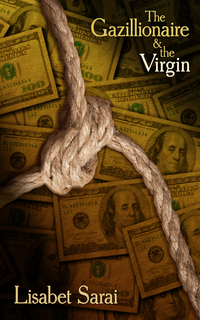 Kudos:
The concept grabbed me from the begin. I love stories about smart but flawed people who find common ground and learn about themselves. Rachel is a high-powered executive who knows what she wants and isn't afraid to do whatever it takes to get it. Theo is a brilliant and sweet yet socially awkward professor with an un-explored dominant side. It was so much fun to watch these two interact and figure out how to deal with both their desires and fears. When Theo panic about the bill for a pricy restaurant Rachel takes him to, I'm right there with him. When Rachel realizes she's found a master she will do anything to stay in the service of, I'm rooting for her.
Quibbles:
It's been a while since I last read erotica. Don't get me wrong, Sarai paints numerous sexy scenes that will make your body ache. However, I missed knowing a little more about what made these characters who they were. Sometimes Theo's oscillations between panic attacks and moments of self-possession are hard to follow. We do get peeks into each's families and lives outside of the bedroom. My biggest problem was what drives the two lovers apart. I'm not sure I would be as understanding as Rachel about Theo's response. However, you won't want to miss what brings the two back together again.
Final verdict:
A most enjoyable and titillating read. Sarai has crafted some solid characters that will make you cringe and root for in turn. And how Rachel wins back the master of her heart and body is breathtaking.